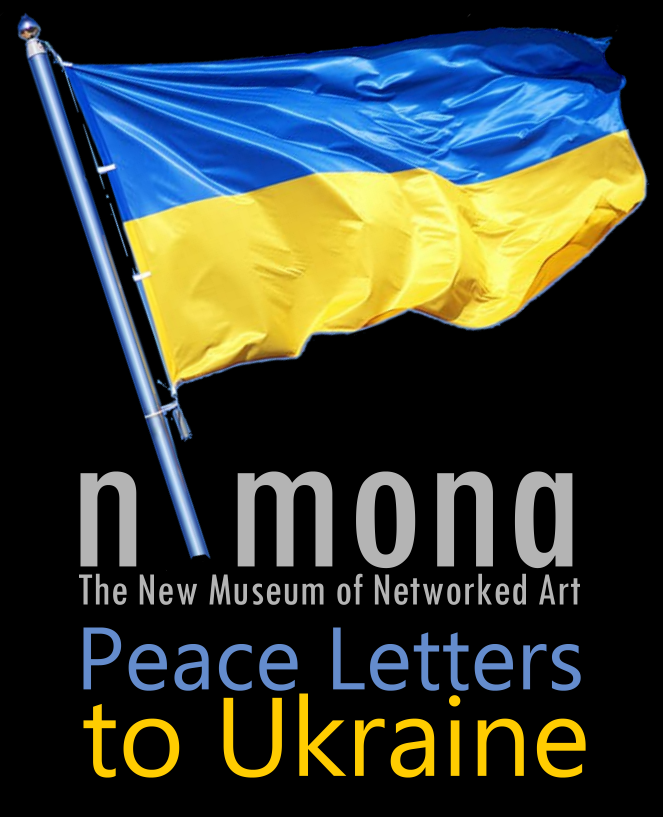 Peace Letters Venues 2022-2023
VisArts Center Rockville (MD/USA) – 07-08 May 2022
Thessaloniki Municipal Art Gallery (Greece) 18-20 May 2022
Torrance Art Museum Los Angeles (CA/USA) – 04-25 June 2022
Rhizome DC Washington DC (USA) – 07 July 2022
IzDoc Izmir (Turkey) – 20-22 January 2023
IIPPE Conference Madrid (Spain) – 5-8 September 2023

Peace Letters to Ukraine 15
International Initiative for Promoting Political Economy (IIPPE) Conference 2023
6-8 September 2023 @ Universidad Rey Juan Carlos, Madrid, Spain
Peace Letters to Ukraine 15
Solidarity screening program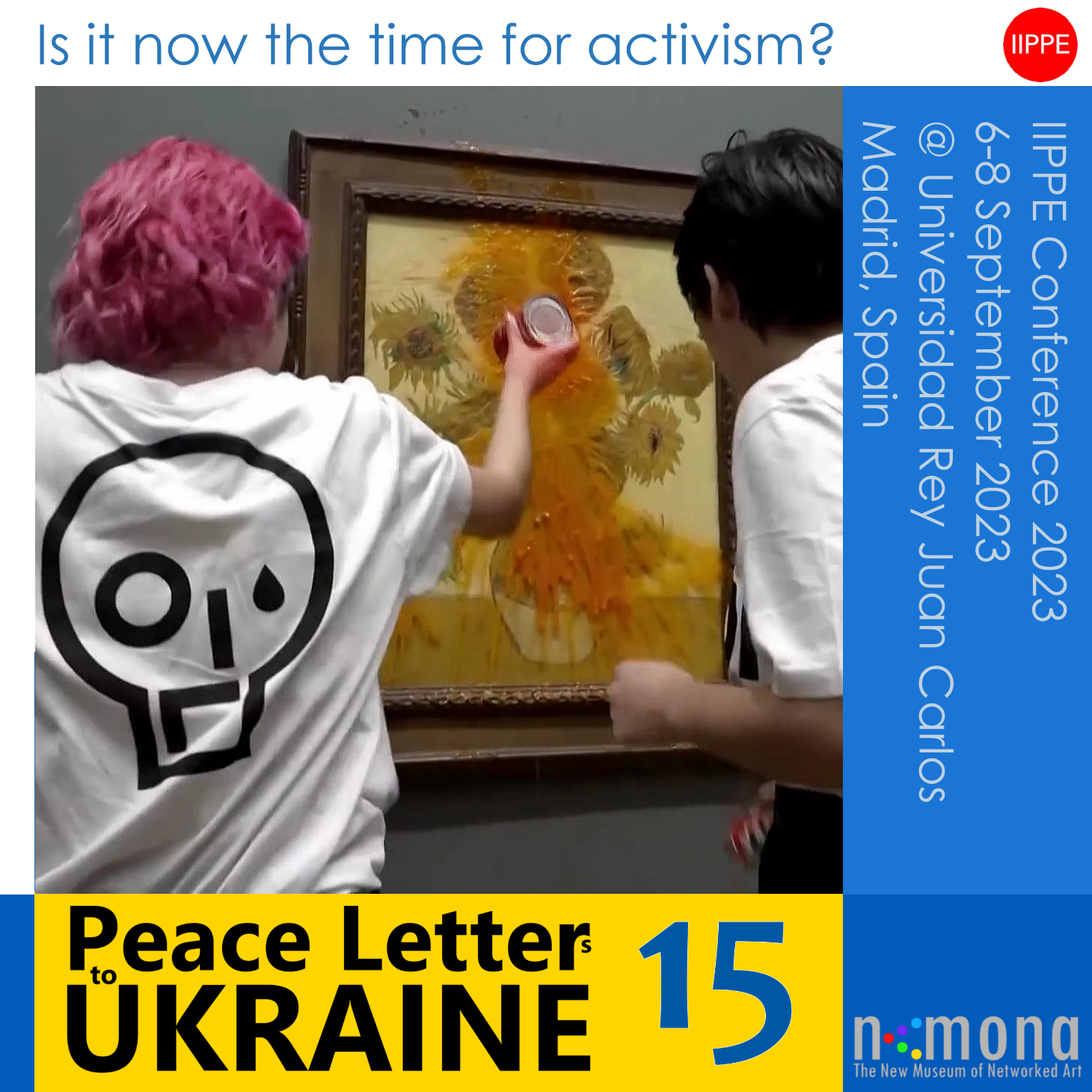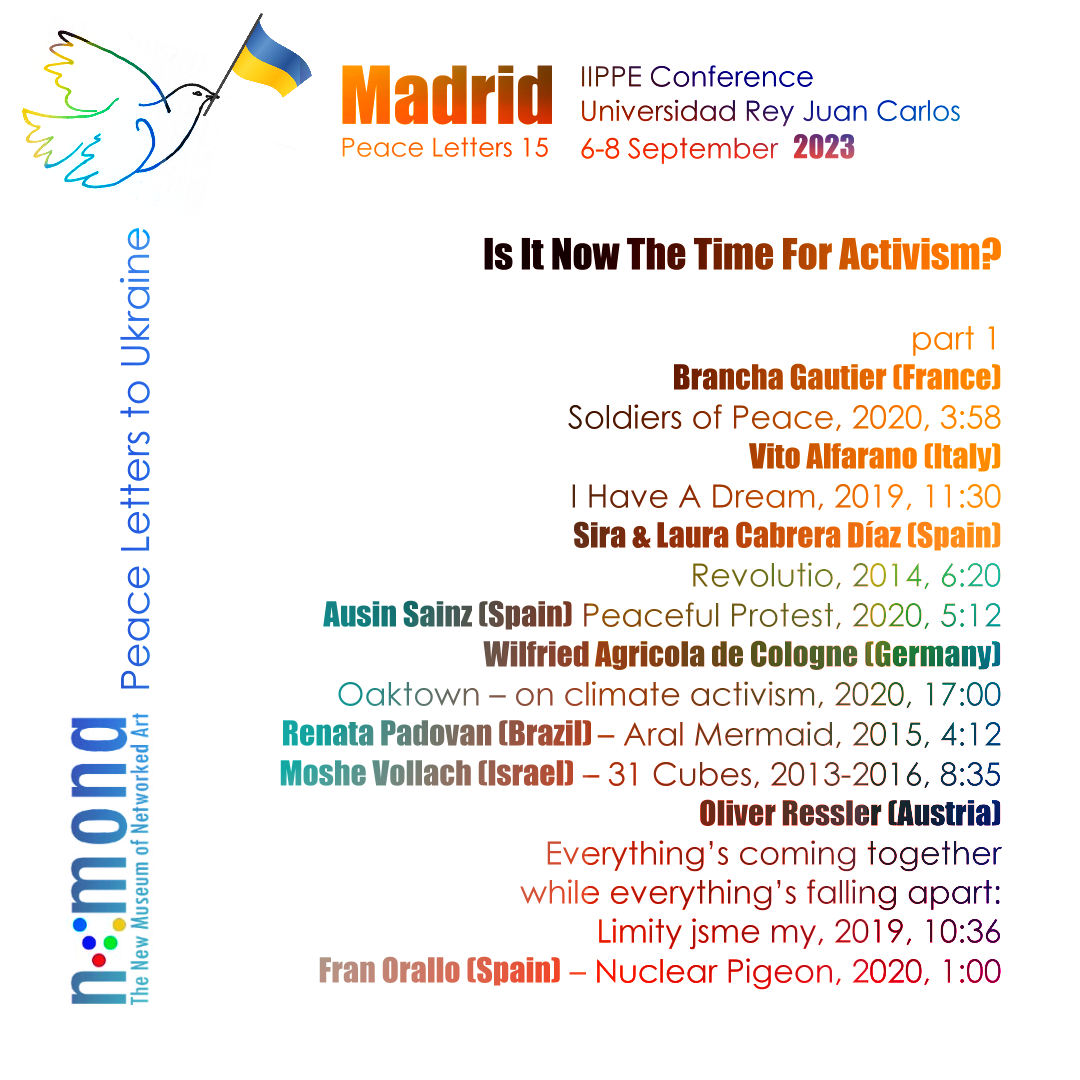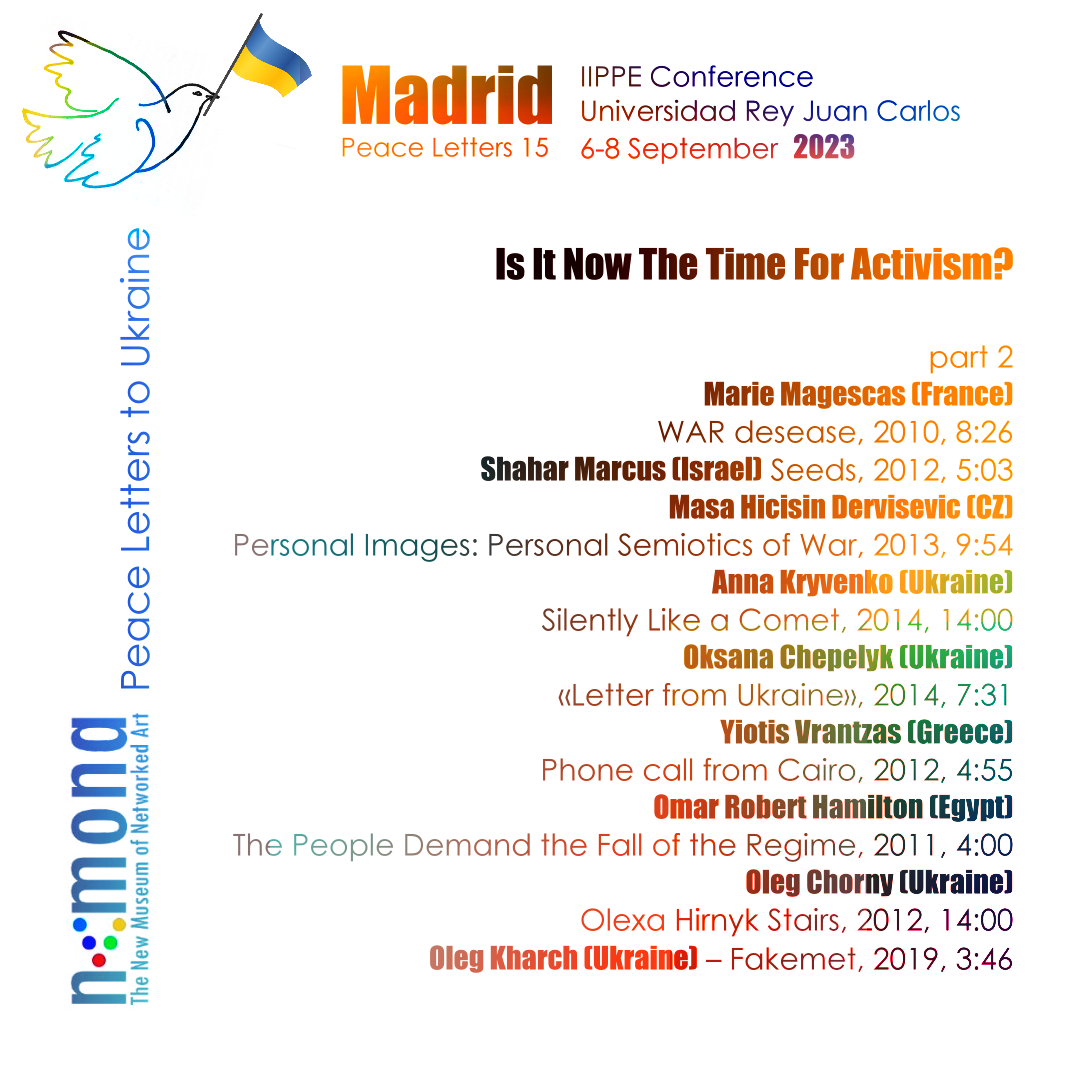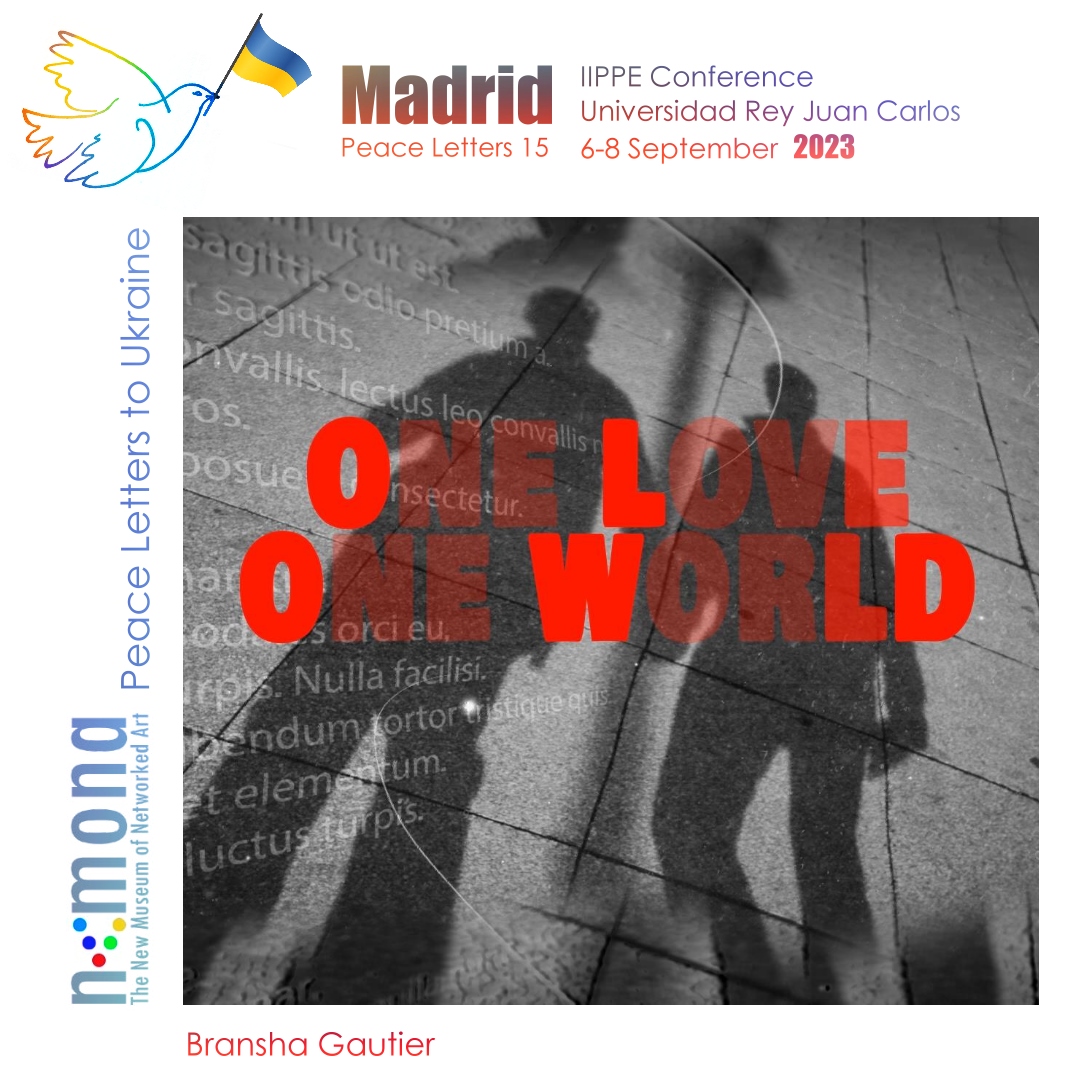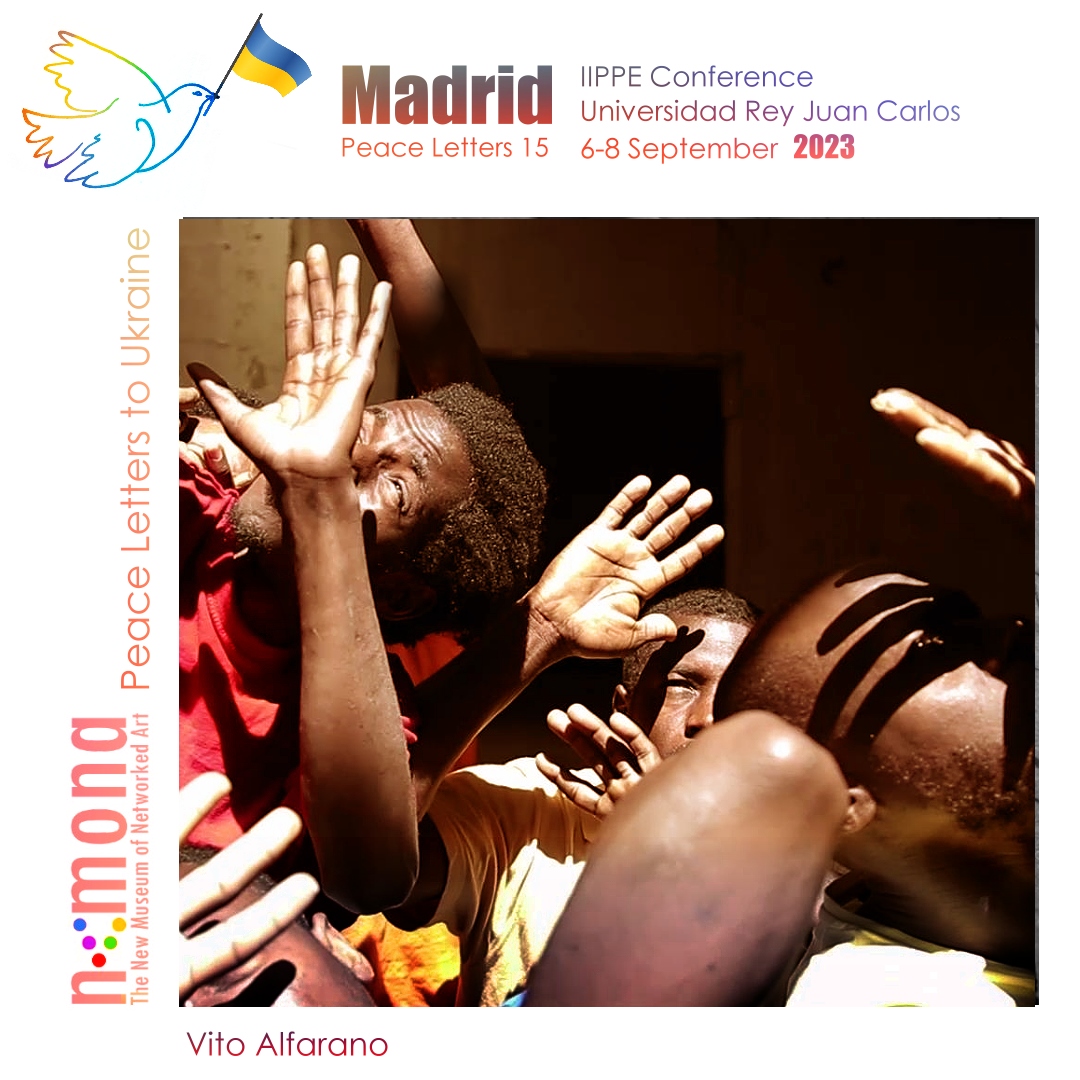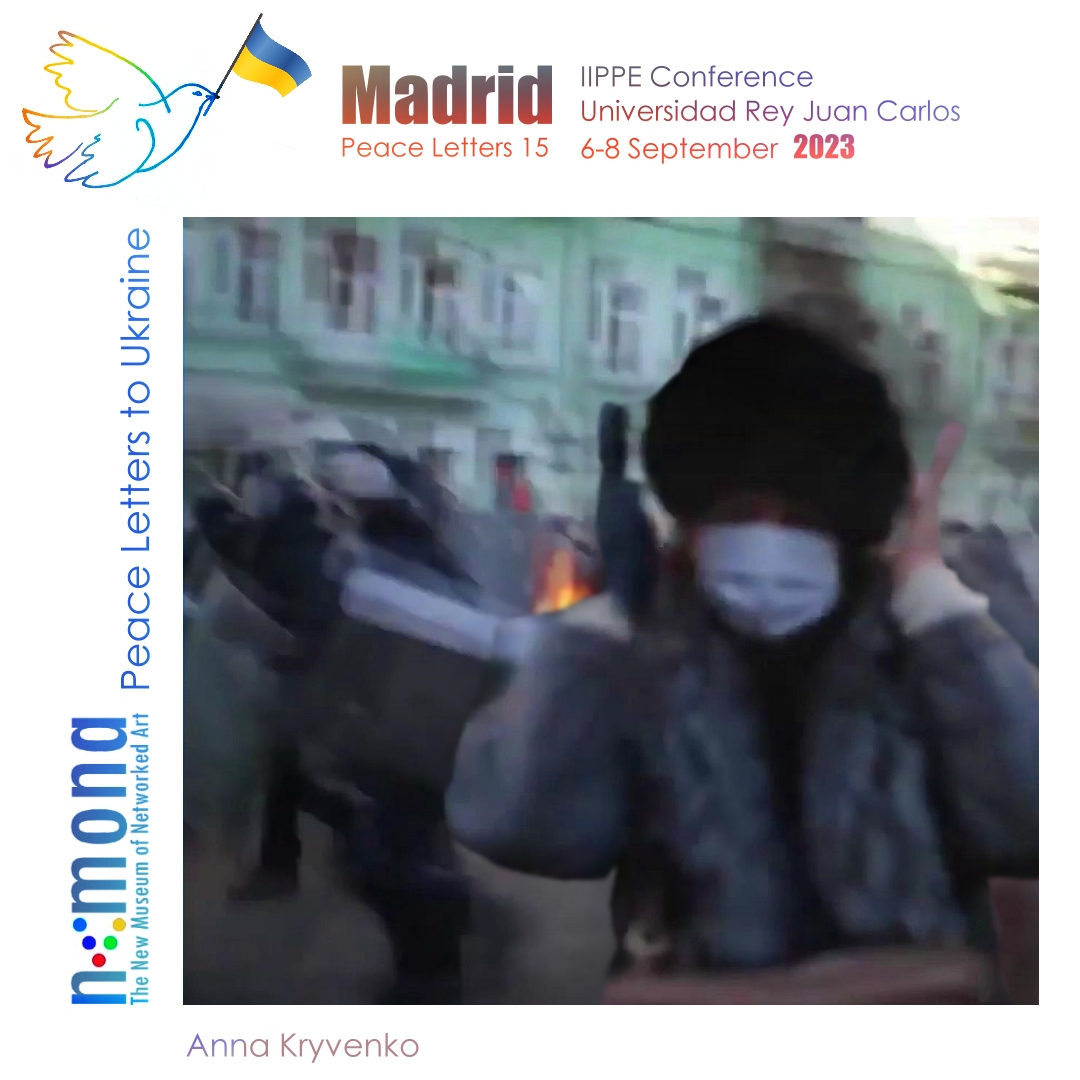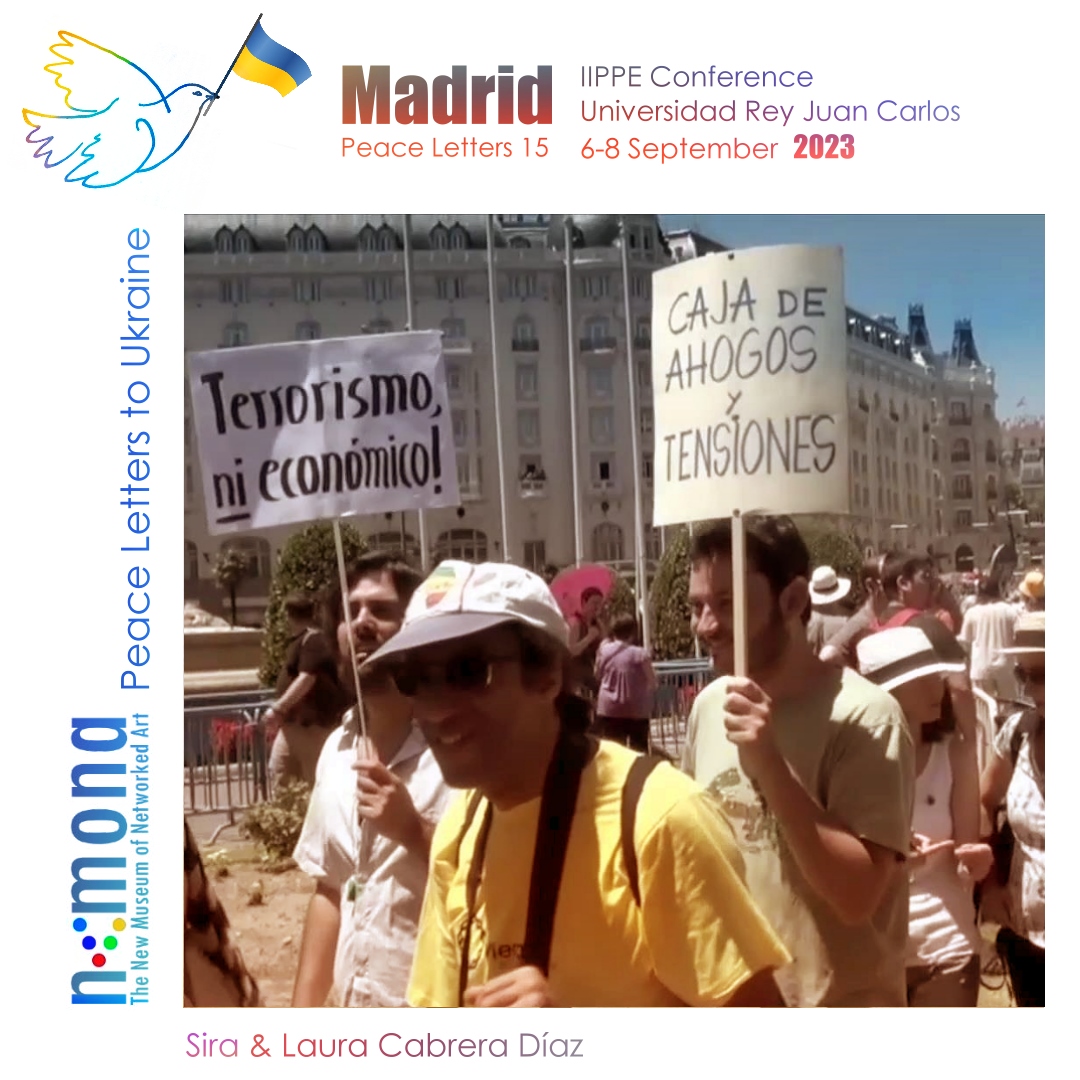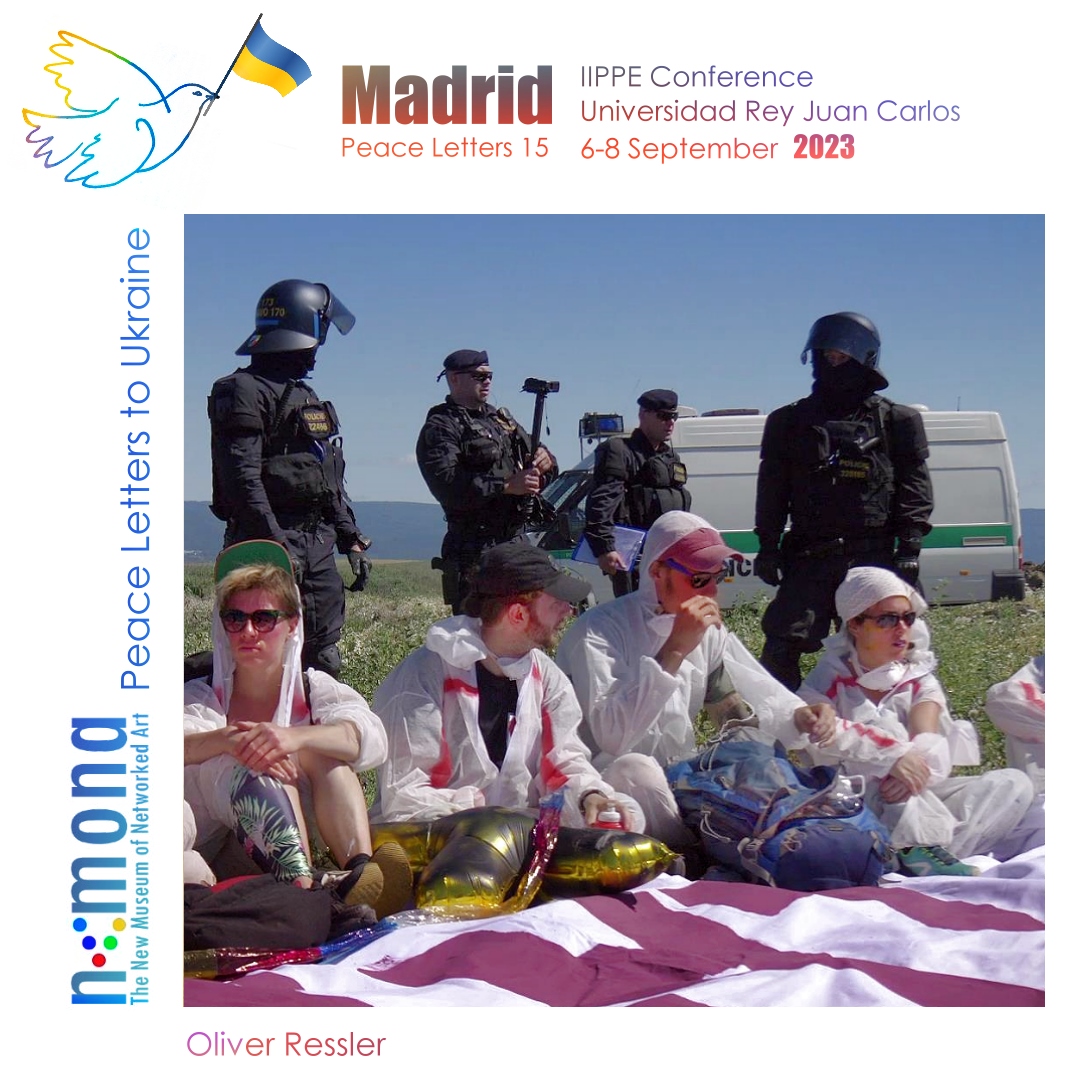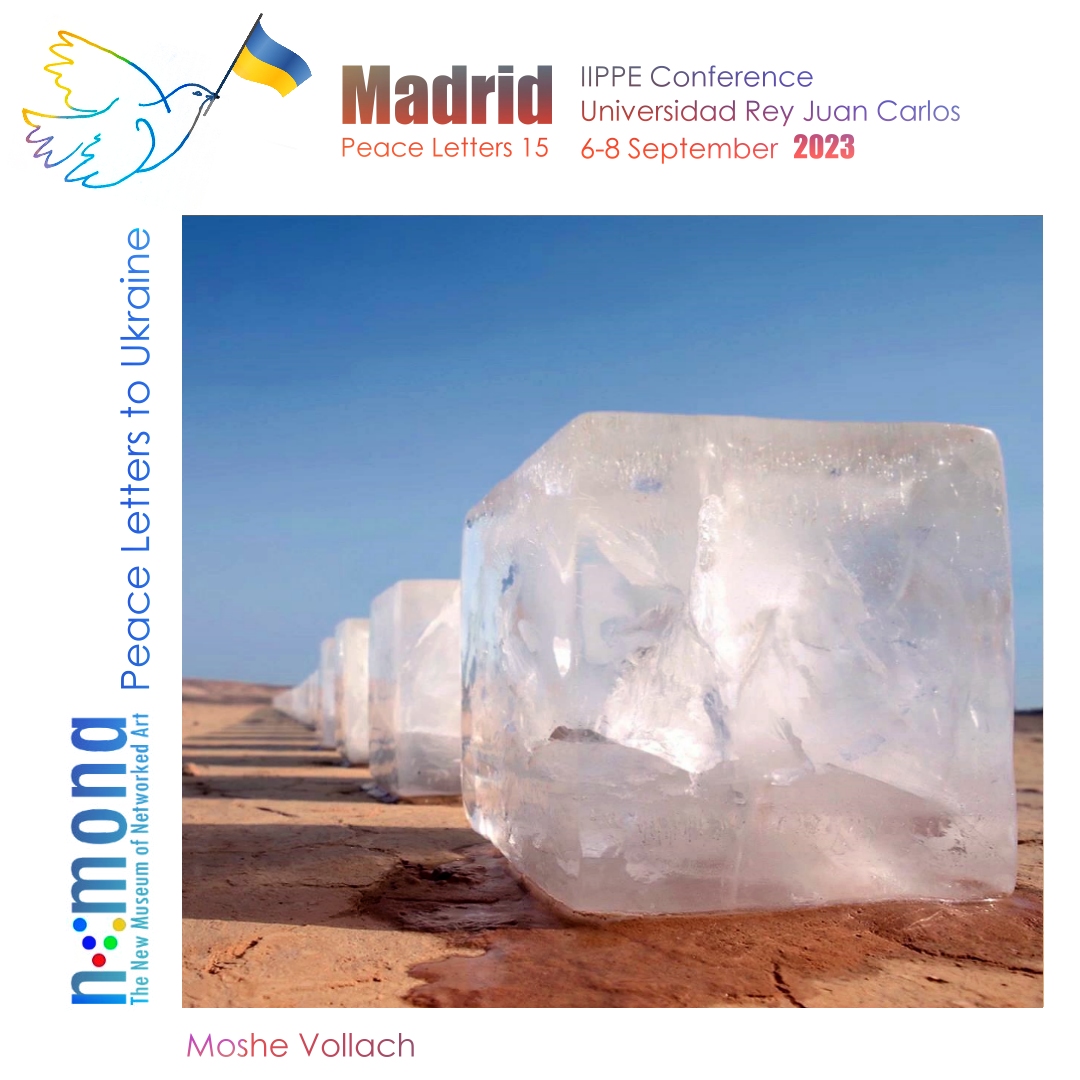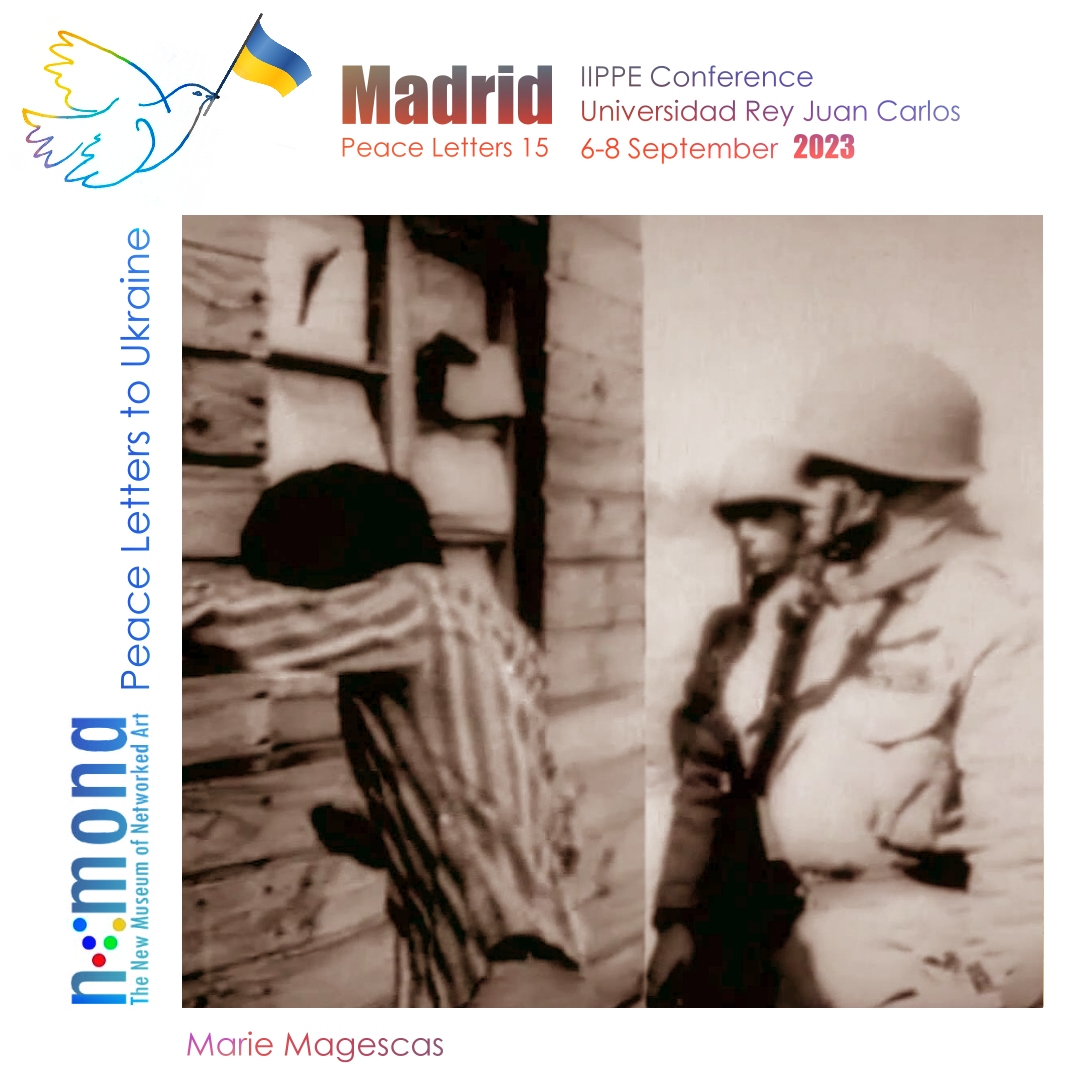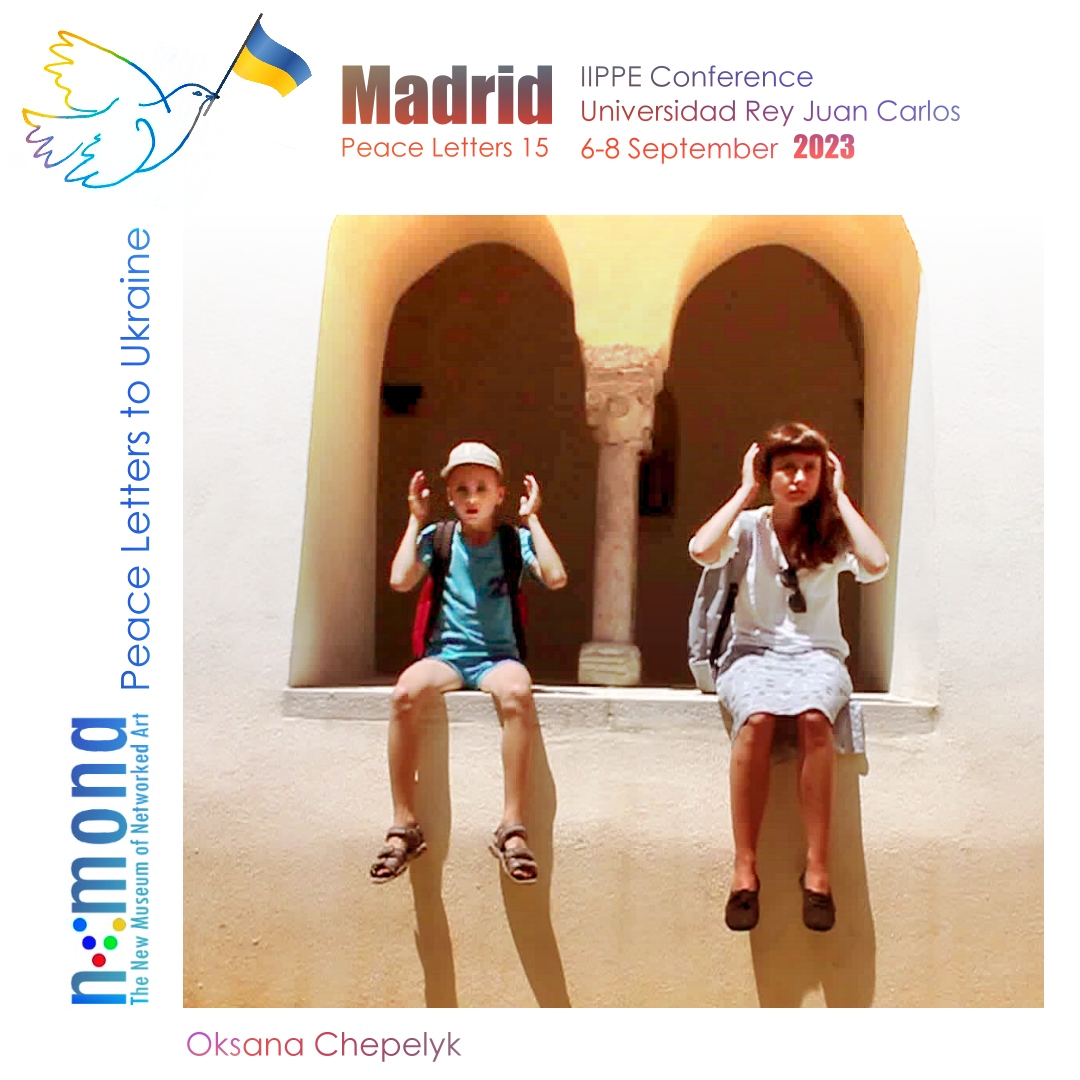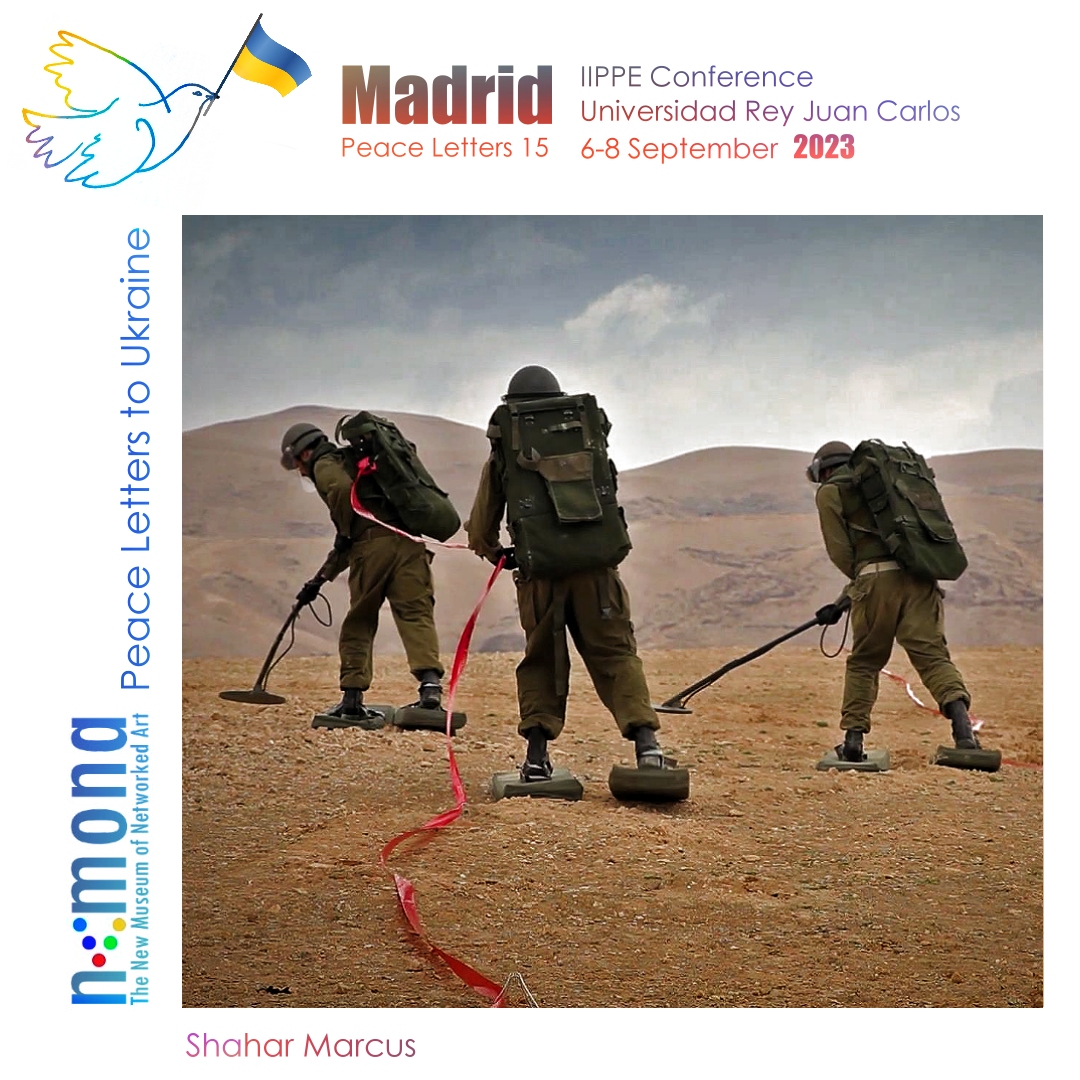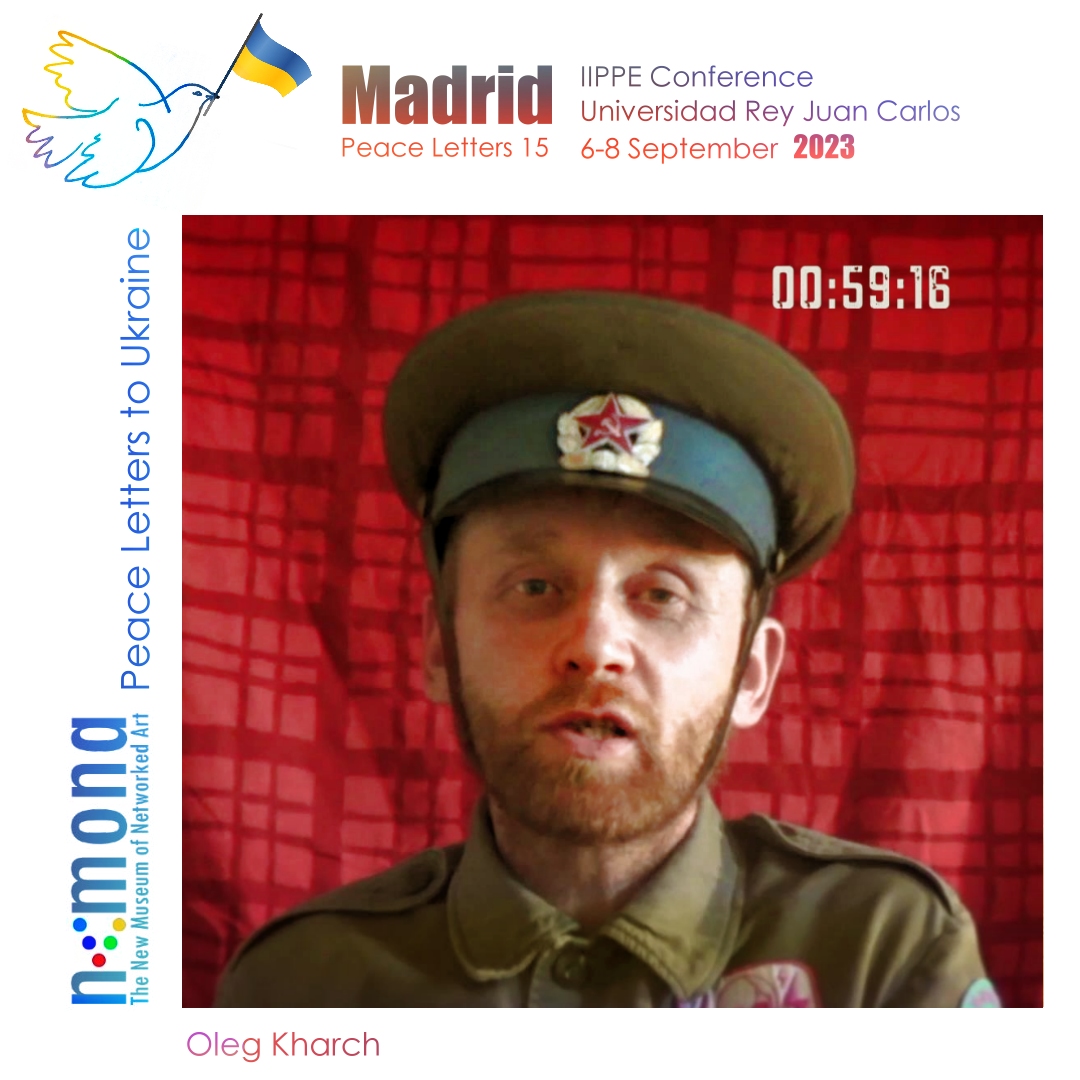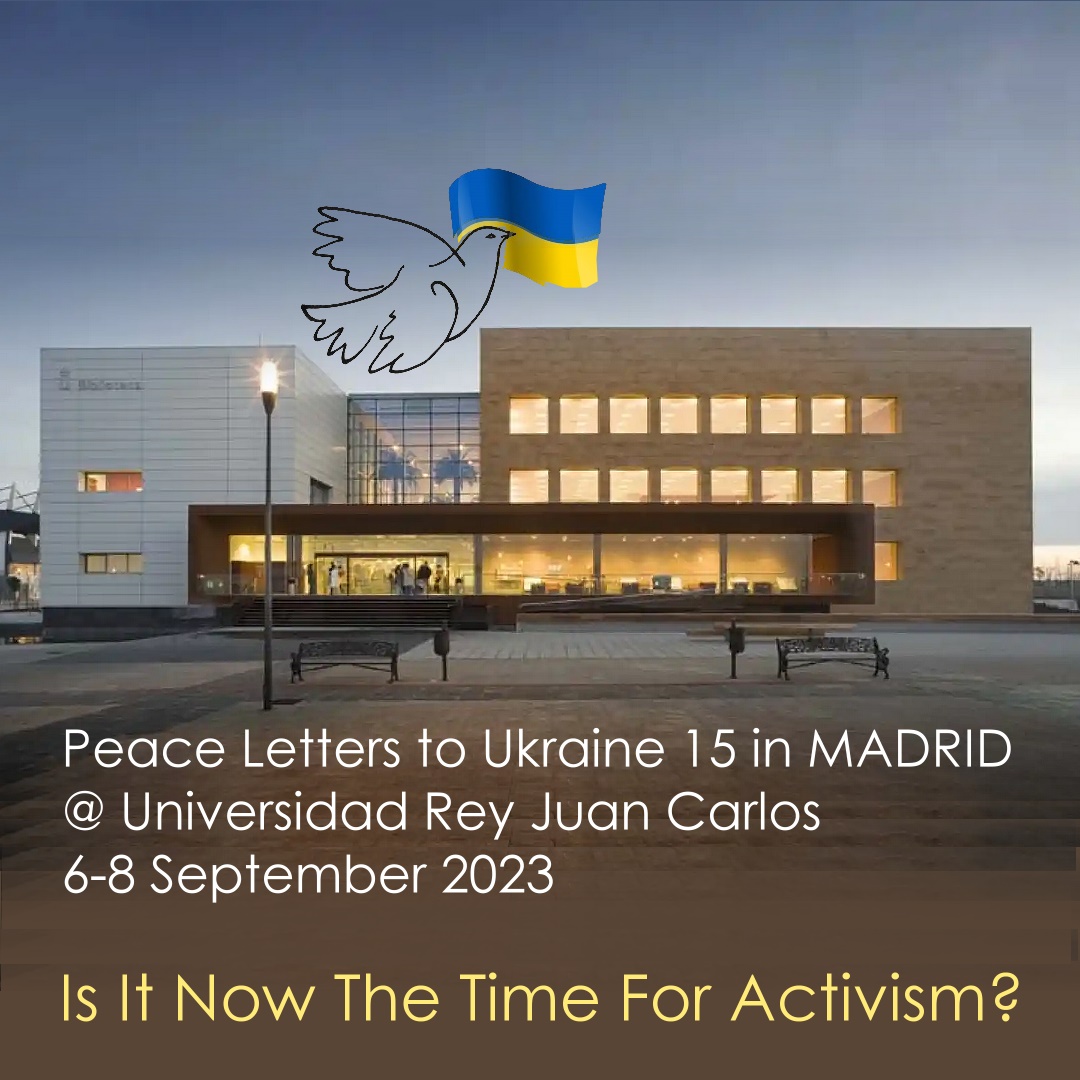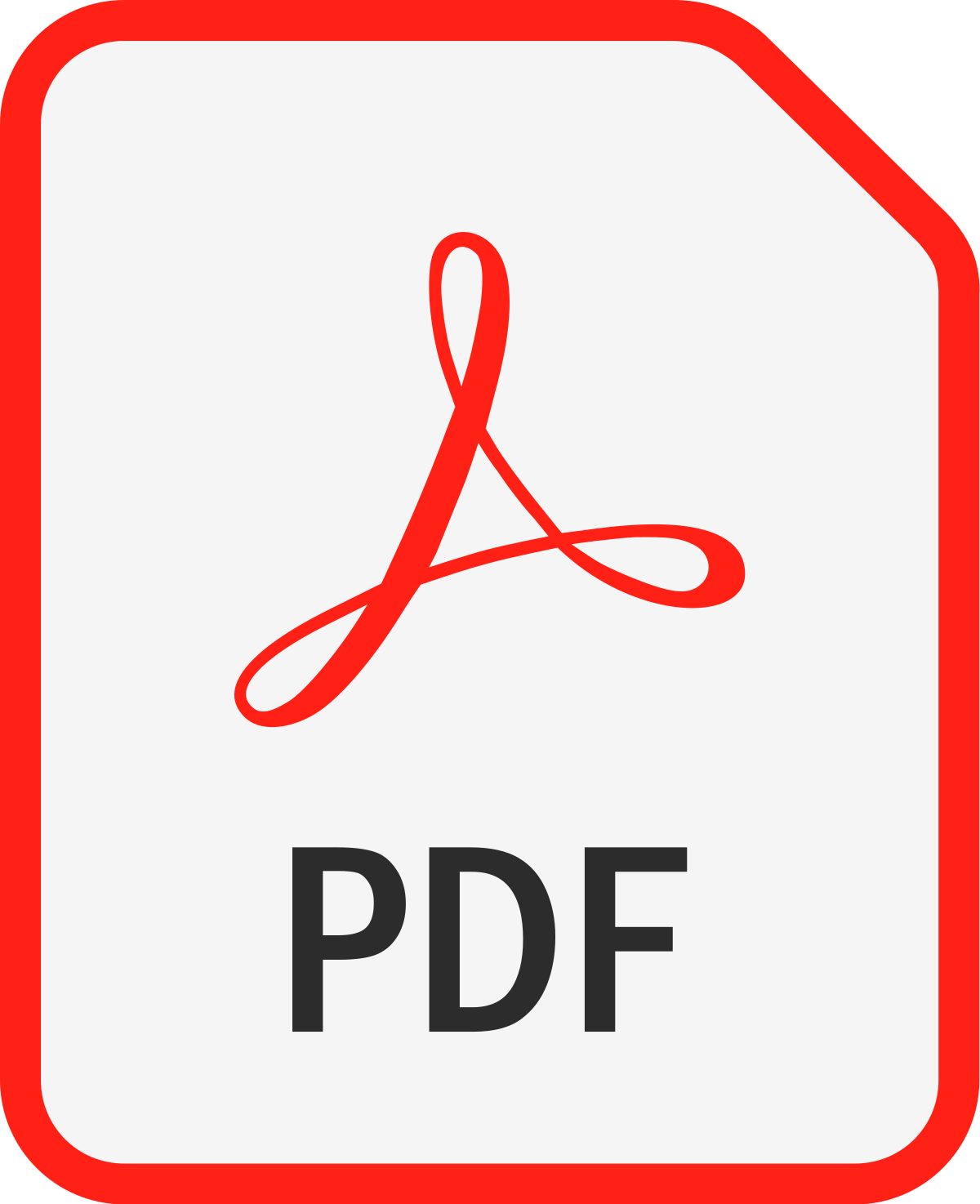 Peace Letters 15-Madrid 2023 – English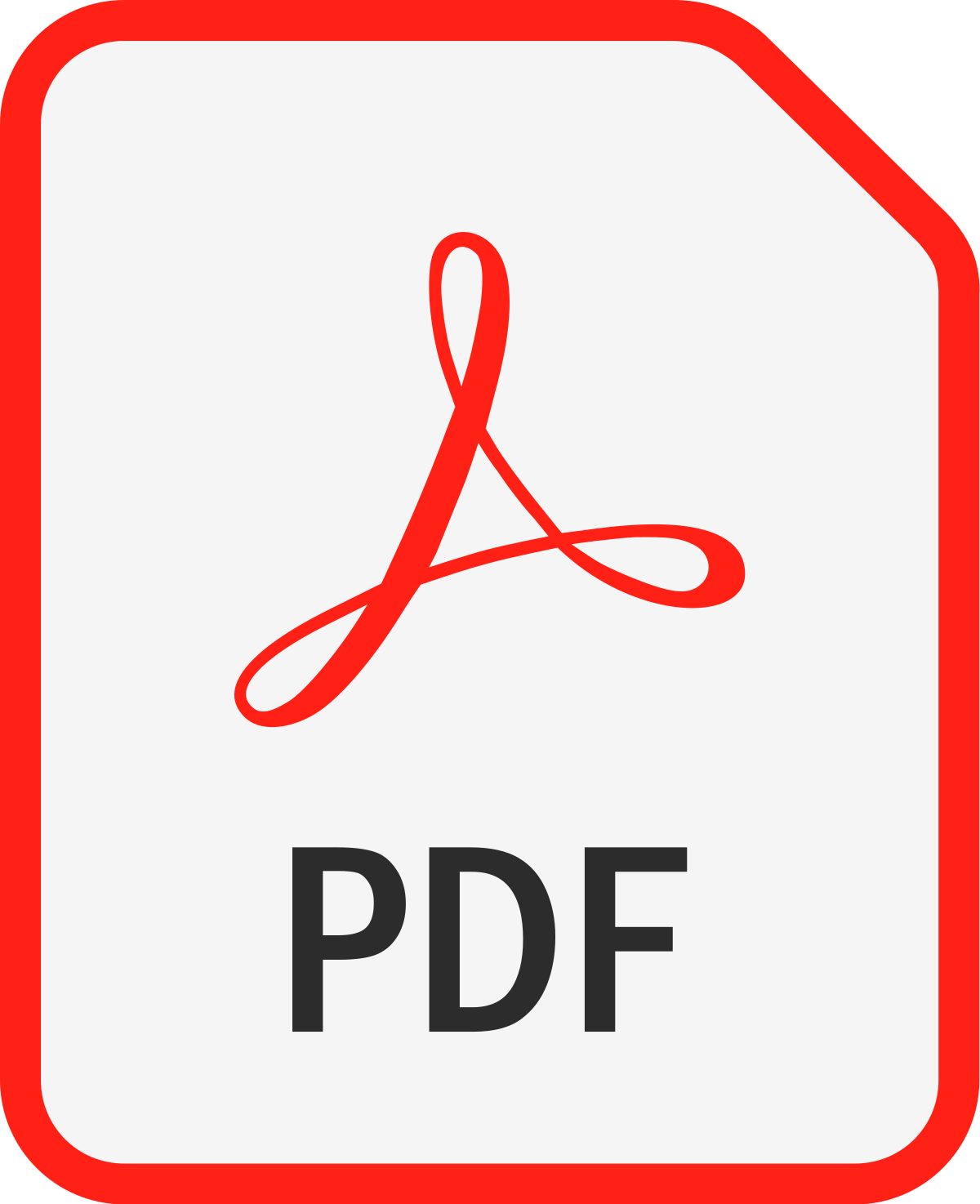 Introduction – Peace Letters 15-Madrid 2023 – English
The 15th part – sending the message of positive creativity – would like to confront the viewer with the some essential questions at the turning point we are living in – when is the individual requested to become an activist?
It is the solidarity screening program for the next physical venue – as a whole a work of video art – consisting of a composition of experimental video works, unique in their constellation – documenting the globally networked collaboration between artists, curators and institutions.
Cultural and artistic networking is representing one way how art can serve as a tool to show and confirm solidarity with the Ukrainian people – for Peace and Freedom – not just in times of war, the Russian-Ukraine War. But it's freedom, of course, as it is understood in a liberal democracy, as it is possible only through the diversity as a result of networking.
While Peace Letters 1 – focused entirely on Ukrainian art videos, Peace Letters 15 is placing the videos of four Ukrainian artists in the context of the ethic /philosophical question.
Is It Now The Time For Activism?
part 1
Bransha Gautier (France) – Soldiers of Peace, 2020, 3:58
Vito Alfarano (Italy) – I Have A Dream, 2019, 11:30
Sira & Laura Cabrera Díaz (Spain) – Revolutio, 2014, 6:20
Ausin Sainz (Spain) – Peaceful Protest, 2020, 5:12
Wilfried Agricola de Cologne (Germany) – Oaktown – on climate activism, 2020, 17:00
Renata Padovan (Brazil) – Aral Mermaid, 2015, 4:12
Moshe Vollach (Israel) – 31 Cubes, 2013-2016, 8:35
Oliver Ressler (Austria) – Everything's coming together while everything's falling apart: Limity jsme my, 2019, 10:36
Fran Orallo (Spain) – Nuclear Pigeon, 2020, 1:00 part 2
Marie Magescas (France) – WAR desease, 2010, 8:26
Shahar Marcus (Israel) – Seeds, 2012, 5:03
Masa Hicisin Dervisevic (CZ) – Personal Images: Personal Semiotics of War, 2013, 9:54
Anna Kryvenko (Ukraine) – Silently Like a Comet, 2014, 14:00
Oksana Chepelyk (Ukraine) – «Letter from Ukraine», 2014, 7:31
Yiotis Vrantzas (Greece) – Phone call from Cairo, 2012, 4:55
Omar Robert Hamilton (Egypt) – The People Demand the Fall of the Regime, 2011, 4:00
Oleg Chorny (Ukraine) – Olexa Hirnyk Stairs, 2012, 14:00
Oleg Kharch (Ukraine) – Fakemet, 2019, 3:46